OBJ Export (enhanced) for AC3D
Released under the GNU LESSER GENERAL PUBLIC LICENSE.
This is an enhanced plugin for the Wavefront OBJ export in AC3D. This plugin differs from the standard AC3D OBJ exporter in the following ways:
Exports groups, either using AC3D groups or one-group-per-object
Exports textures

Option to copy geometry texture files to the output OBJ directory
Option to specify full pathnames or filenames only for textures

Only exports materials that are used by the exported geometry
Exports lines/polylines
This plugin and its source are freely distributable
AC3D versions prior to version 5 have not been tested with this plugin.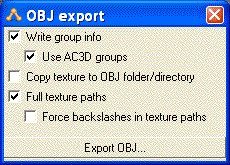 Description
Provides additional options and features for OBJ exports.
Installation
Copy the wf_obj_export.tcl and wf_obj_export.p files (included with this distribution) to your AC3D plugins folder (for example, if using Windows, C:\Program Files\AC3D5\plugins) and (re)start AC3D.
Help
Mouse-over each of the options in the interface in AC3D to get balloon help on each option (be sure to enable balloon help in your AC3D settings if it's not alreday set).
Problems
Post a message to the AC3D forums, attention to Dennis, if you have problems with this plugin.